On 1st July 2020, the Inclusive Finance Network Luxembourg (InFiNe.lu) successfully held its annual general meeting in virtual form. The members of the network were widely present. This demonstrates more than ever their commitment for strong inclusive finance during this unprecedented period of time.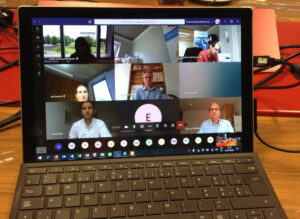 A recap of the 2019 activities was presented, and the 2020 annual plan of activities and budget were approved by the members. InFiNe.lu has adapted its activities to the current situation. In its website, the Association provides an overview of news and events on inclusive finance in Luxembourg but also all over the world. A resource page including solutions, testimonials, guidelines and thought to help manage the current crisis was also created.
After an open nomination and election process, the AGM elected 7 board members:
Laurent Capolaghi (EY Luxembourg)
Hélène Keraudren (Fondation Grameen Crédit Agricole)
Michel Maquil
Pierre Oberlé (ALFI)
Katharine Pulvermacher (Microinsurance Network)
Luc Vandeweerd (ADA)
Sachin Vankalas (LuxFLAG).
They join Robert Jarvis (Luxembourg for Finance) and Thomas Lammar (Luxembourg Ministry of Foreign and European Affairs – Development Cooperation) in the Board.
Following the AGM, the InFiNe.lu Board of Directors re-elected Michel Maquil as President, Laurent Capolaghi as Treasurer. Luc Vandeweerd was elected Secretary of the Board.